| SERVICE | PRICING |
| --- | --- |
| PET SHUTTLE | $ 50.00 (per crate) |
| | |
| AIRPORT ASSISTANCE | $ 150.00 (first crate) |
| Additional Crates | $ 75.00 |
Pet Shuttle

Juggling time to get to the vet, groomer, or any local destination? Vehicle unavailable? Paw Addicts does the work for you, freeing up your precious time. We can even shop for pet supplies.
Please note:
Services must be reserved and paid for in advance.

Paw Addicts is not commercially licensed as a personal taxi service. One caretaker may accompany pet during transport
Airport Assistance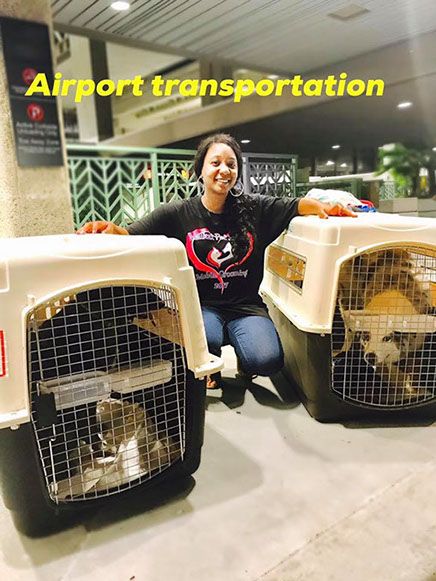 PCSing to or from Hawaii?
We Can Help!
Moving to Hawai'i? Leaving the island? Need assistance getting your pets to or from the airport? We can help! More than simply transporting your pet, we offer:
The ability to transport large, unwieldy crates

Assistance ensuring all paperwork is complete and correct

Interfacing with HDoA officials prior to departure or upon arrival

In-person handling of entry and quarantine fees settlement (inbound pets)

Assistance obtaining necessary health certificate paperwork (outbound pets)

Our boarding services can also be paired with this option
Please note:
Services must be reserved no later than 48 hours prior to arrival/boarding time and must be paid for in advance.

We do not handle ticket booking or accompany the pet on the flight.

Paw Addicts is not commercially licensed as a personal taxi service. One caretaker may accompany pet during transport